Keeping you updated
Our aim is to provide regular updates to keep you informed with the latest details regarding local restrictions and how this relates to you and your home. For more information around how we are keeping our services running, please visit our coronavirus FAQ webpage.
Keeping our services running
We are running a full repairs and maintenance service and will continue to carry out essential safety checks to your home. For more information around what you can expect when we visit your home, please visit our repairs and maintenance FAQs. You will also find a detailed guide of how we are applying the Government's coronavirus guidelines to the way that we work, so you can be confident we are keeping you safe in your home.
What should I do if I am experiencing any symptoms?
If we are due to visit your home and you are experiencing any symptoms, then please contact us immediately to rearrange this visit.
You can find further information about self-isolating and how to get a test by using the links to the Government website provided.
National restrictions
For an update on our response to national restrictions, please see our response to coronavirus. 
Local restrictions
If you live within an area subject to additional local restrictions, then you will need to follow additional guidance specific to your location.
Local lockdown guidance can be found on the Government website.
Local authorities may also have put in place local restrictions. You can find out more about this on your local authority's website. Find your local council by clicking here.
Making a support bubble with another household
If you are a single household then you may be permitted to form a support bubble with one adult from another household (this must be on an exclusive basis, you will not be permitted to select support bubbles with multiple households). Households within a bubble can still visit each other, stay overnight and visit public places together.
More guidance on support bubbles can also be found on the Government website.
Hands, Face, Space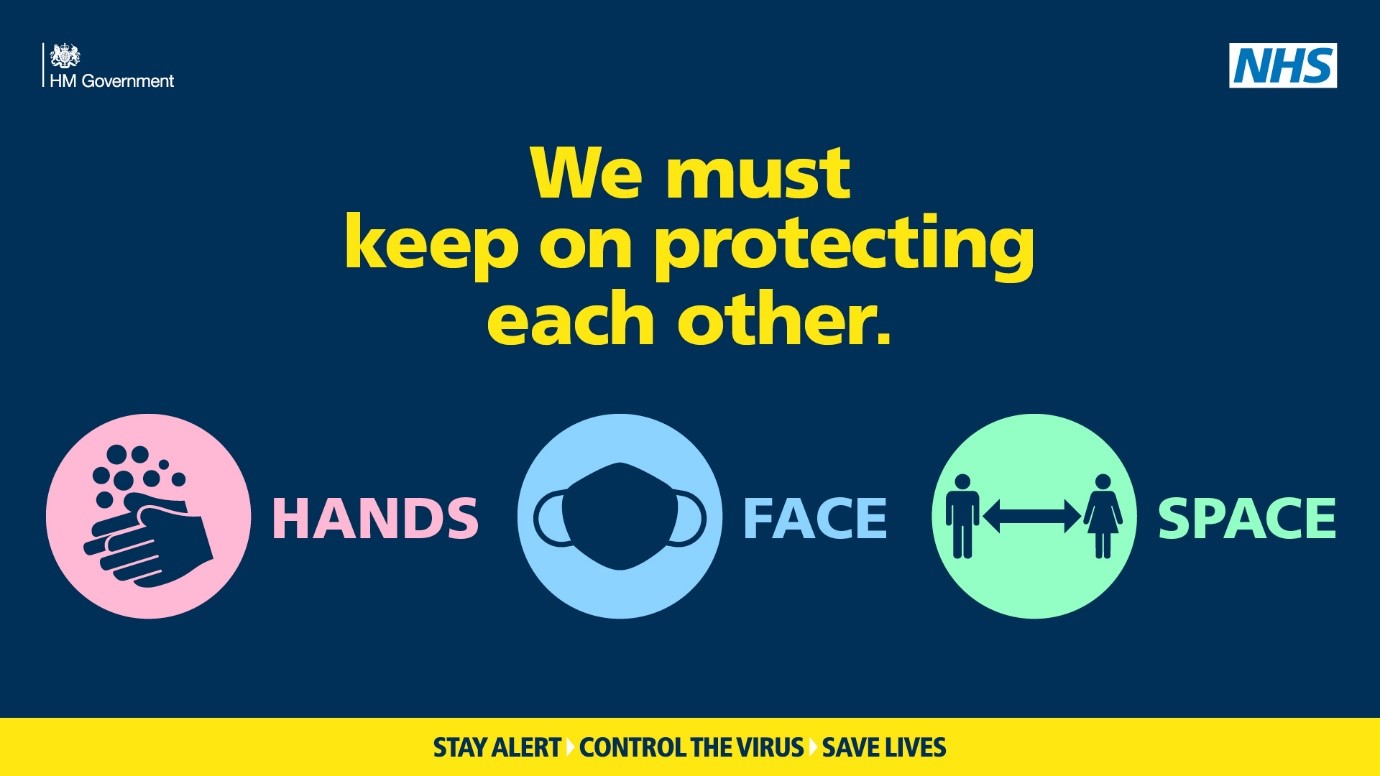 Washing your hands
While coronavirus is not likely to survive for long periods of time on outdoor surfaces in sunlight, it can live for more than 24 hours in indoor environments. Washing your hands with soap and water for at least 20 seconds, or using hand sanitizer, regularly throughout the day will reduce the risk of catching or passing on the virus
Covering your face
Coronavirus is carried in the air by tiny respiratory droplets that carry the virus. Larger droplets can land on other people or on surfaces they touch while smaller droplets, called aerosols, can stay in the air indoors for at least five minutes, and often much longer if there is no ventilation. Face coverings reduce the dispersion of these droplets, meaning if you're carrying the virus you're less likely to spread it when you exhale.
Making space
Transmission of the virus is most likely to happen within two metres, with risk increasing exponentially at shorter distances. While keeping this exact distance isn't always possible, remaining mindful of surroundings and continuing to make space has a powerful impact when it comes to containing the spread.