We can work with anybody who is keen to make positive life changes and satisfies ALL of the following criteria:
1) Aged 18+ AND 2) lives in Norfolk AND 3) has Right to Work in the UK AND 4) is not working at the moment.
Everybody who fulfils these criteria is welcome, including people with a disability, a long-term health condition or English as a second language.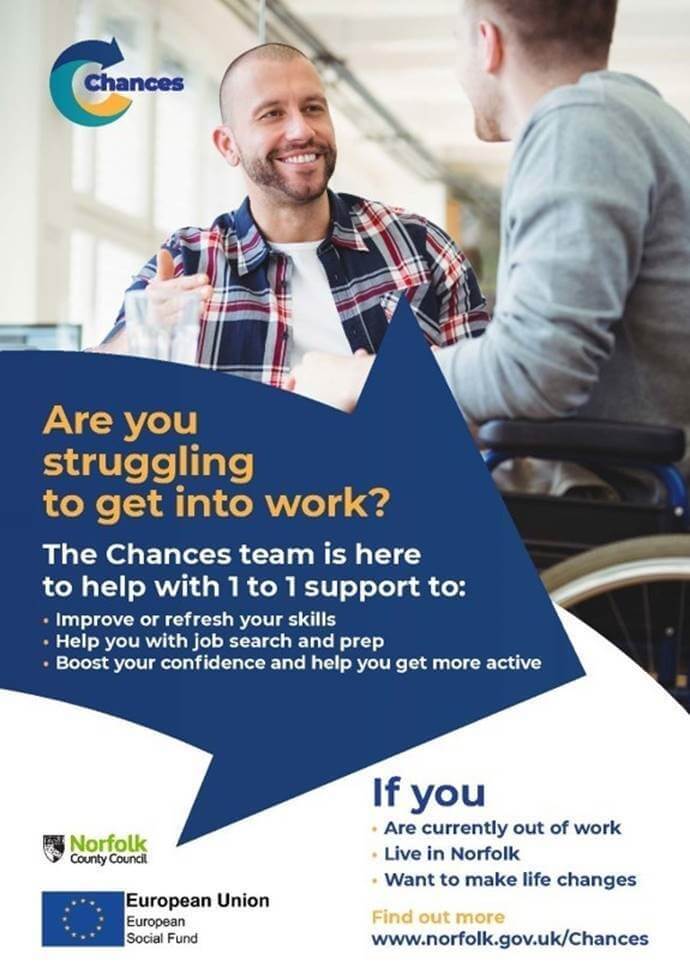 You can benefit from tailored, one-to-one sessions for 3-6 months with an experienced local Chances advocate. All of our assistance is free of charge. Advocates empower and support people to achieve their own employability goals, regardless of any barriers they face. Examples of our work include everything from help with writing an effective CV and job interview technique to supporting people into the right volunteering or training opportunity for them.
How can you get involved? 
People can refer themselves through completing our quick and easy online referral form or call or email their local Chances senior advocate. Alternatively, somebody else (including a service provider) can do this on a person's behalf.
We can work with people face-to-face in the community, one of our offices, or online. We encourage our participants to meet face-to-face where possible, but we respect individuals' wishes and needs.
For more information: