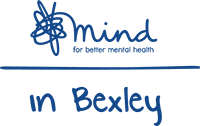 The website is being regularly updated and a new help section has been created, with lots of useful resources.
Bexley Crisis Café – Our Crisis Café is a drop in service for those in the borough 18+ who are emotionally/psychologically distressed and need somebody to talk to. This remains OPEN every day from 6pm-10pm at our Mind in Bexley office (Mind in Bexley 2a Devonshire Road, Bexleyheath, DA6 8DS). To stay safe the Bexley Crisis Café admits only one client at a time to be seen.
A wellbeing support line has been set up for people living in Bexley: 0808 196 3806. You can call Monday - Friday 10am to 3pm.
Mind set up the Recovery College in June 2014 to empower people with mental health problems to become experts in their own recovery. The workshops and courses they run aim to provide the tools to make this happen and to help you become an expert in your own recovery or that of someone you care for. The college offers a learning approach that complements the existing preventative services provided by Mind in Bexley. A weekly timetable for support courses has been created. For more information on any of the courses, please call 0208 303 8932 and press option 5. You can also email recovery@mindinbexley.org.uk or register online.
You can read the Recovery College digital magazines here.