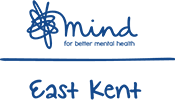 The website is being regularly updated and a new help section has been created, with lots of useful resources.
Ramsgate Crisis Café – Our Crisis Café is a safe and friendly place that you can come to if you are experiencing severe emotional or psychological distress. You can access mental health support and advice from mental health and wellbeing workers. We will be OPEN from 6pm - 9.30pm on a Friday, Saturday and Sunday at our Mind in East Kent office (Mind in East Kent, 34 King St, Ramsgate CT11 8NT). 
East Kent Mind are offering an array of of live workshops, courses and activities that you can access on your phone or on your computer at home. For more information on any of the courses, please call 0203 912 0031. You can also email  info@eastkentmind.org.uk or register online.