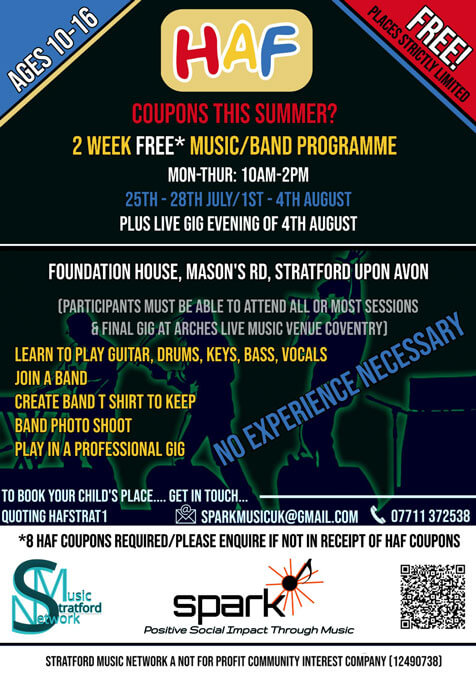 FREE Band programme places in Stratford this summer for youngsters aged 10-16 who fall in the following categories:
Those that have allocated family support worker or social worker
Those with an open early care plan
Young carers
In receipt of free school meals
Youngsters in these categories will be eligible for HAF coupons from WCC and so can join our SPARK Youth Music band programme for FREE. Packed lunch and drink included each day.
SPARK is a not for profit/non-commercial organisation and this is a fantastic opportunity for some youngsters to experience being in a real band and playing in a professional gig this summer. 
Venue
Foundation House, Masons Road, Stratford upon Avon
Date/time
The programme dates are 25 – 28 July/ 1 – 4 August (Mon – Thurs 10am – 2pm)
How to sign up
Any questions and to sign up, please get in touch with sparkmusicuk@gmail.com or call 07711 372538.
Please pass the information on to families who you feel would benefit. Please also share with your contacts and networks who can pass the details on to any suitable customer families of youngsters.