Working in partnership with the Wessex Group, we can offer all customers a special household contents insurance deal with Aviva, which can be paid in monthly instalments.
The policy provides cover on a 'new for old' basis, with the exception of linen and clothing which will be replaced at their current cost, less an amount for wear and tear at competitive rates. This means that if anything in your home is stolen or damaged, it will be replaced with a new version of the item, regardless of the age of the original.
To apply, please click here.
Home contents insurance: why you can't afford to ignore it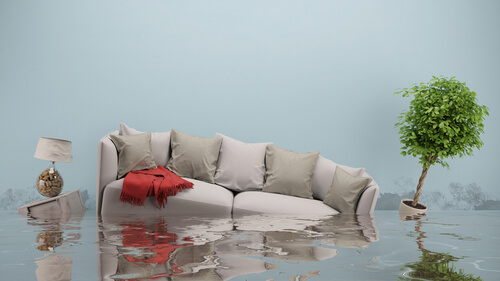 Imagine opening the door to your home one day and finding out that a flood in another property had caused unimaginable damage to all your worldly goods. Everything has been affected and is now soaking wet …. light fittings, wallpaper, carpets, clothes, electrical devices, bedding.
And as if that isn't bad enough, suddenly you realise that, with no home contents insurance, you have no immediate means of paying for any of it to be replaced.
Well that's exactly what happened to one customer who wants to share their experience, in the hope that it might help others.
The customer, who wishes to remain anonymous, said:
"People think that home contents insurance is a luxury but it's not, it really is a necessity, and everyone should have it. I wish I'd had it. I wish I'd knew how important it is and that it is an essential cost that needs budgeting for, like rent and food. What happened to me was utterly soul destroying and I'd hate for anyone else to go through it.
"I had a call at work one day telling me what had happened, so I went home at lunchtime to take a look. I could not believe what I saw when I opened the door. I can only describe it like some kind of botanical gardens with water running down everywhere – out of the light fittings, down the walls and onto the flooring. Everywhere I looked there was water and everything, and I mean everything, I owned was damaged – clothes, bedding, mattresses, furniture, TV, Xbox, microwave, the lot. And because I didn't have any home contents insurance, I have had to start again, bit by bit. Even the wallpaper needed replacing – it was a complete mess.
"I never took out home contents insurance before because I didn't know I needed it. I thought it was just another bill to pay and never thought any more of it. I wish they taught this kind of thing in school because I just didn't realise how important it was. I understand now that it is exactly for this type of thing so you can make a claim and get your items replaced.
"My advice to anyone is, please, please, please take out home contents insurance. You can shop around to get the best deal, but make sure you are covered. You may be the most careful tenant ever, but you can't second guess or plan for freak accidents outside your control, like the flood damage I suffered."
As a rule, generally anything you would take with you when you move house is covered in home contents insurance, such as clothing, furniture, jewellery and electrical goods and it usually covers you against fire, flood and theft. Yet, according to UK consumer website Finder.com, the growing trend is for less people to purchase home contents insurance.
Some people don't take out home contents insurance because of the cost, especially against the backdrop of coronavirus where household budgets have become even tighter. For others there's a lack of understanding about what it covers and some people just don't know about it. Like all insurances, it only comes into its own when it is needed but as our customer here adds: "Even with all the costs I've incurred replacing my stuff, I have taken insurance out now because you just never know when you might need it. I totally get that it's another bill to pay which a lot of people feel they can't afford, but it would have been worth its weight in gold if I'd had it when all this happened."