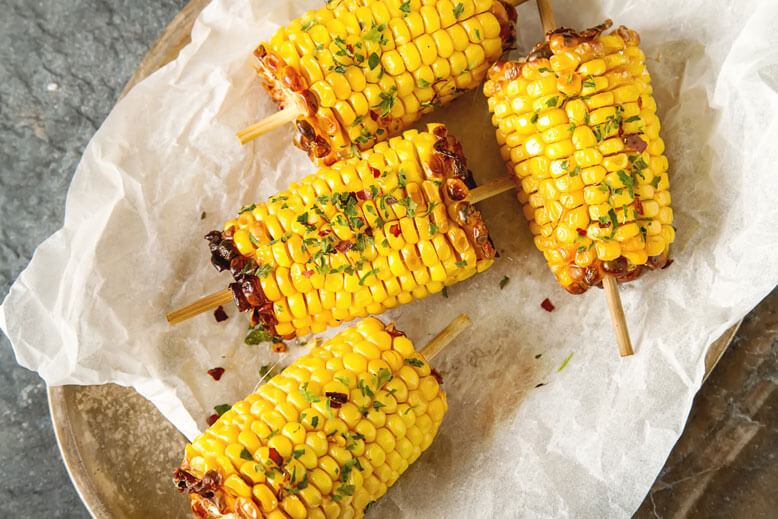 We've all heard by now that eating more vegetables is good for you. Not only do veggies reduce your cholesterol, they also have high amounts of fibre - and that's good for your health! Eating meat also contributes to increased greenhouse gases being released into the atmosphere – and that's not good for the planet.
We've handpicked three simple and affordable veggie barbeque recipes for you to try this summer (and don't worry if you don't have a barbeque, you can always grill these on the hob or your oven!)
Grilled corn on the cob (serves four)
Grilling sweetcorn is so simple – and it tastes great too!
What you'll need
Four cobs of corn, cut in half
125g of softened butter
One deseeded and finely chopped red chilli (chilli powder and flakes work well too)
Handful of fresh coriander, chopped
How to make it
Put the corn in a large bowl of cold water and let it soak for 30 minutes
Combine the butter, chilli and coriander
Shake any excess water off the corn and place each piece on a sheet of aluminium foil big enough to wrap the corn in.
Divide the butter up, spread it on the corn and then wrap it up in the foil.
Grill on the barbeque over a low to medium heat for 20 to 25 minutes, turning every so often, making sure the butter doesn't escape.
Open the foil and serve!
Top tip: There are loads of different spice combinations you can try – garlic butter with Parmesan cheese or if you like Mexican flavours, you could mix up mayonnaise, sour cream, lime juice, chili powder and cayenne pepper. The possibilities are endless!
Halloumi Burgers (serves four)
What you'll need
250g block halloumi cheese, cut into eight thick slices
1 tbsp olive oil
4 brioche buns
4 tbsp hummus
1 large ripe tomato, thinly sliced
4 Butterhead lettuce leaves (or any lettuce you prefer)
4 tbsp tomato salsa 
How to make it
Heat your barbeque until it's hot. Brush each side of the halloumi slices with olive oil and cook them on each side for two to three minutes or until golden.
Split the brioche buns (toast them lightly on both sides if you like, being careful not to burn them) and spread the bottom halves with the hummus. Add some tomato and then the halloumi, then finish with the lettuce and salsa and top with the other half of the bun.
Top tip: You can add any extra veggies you like such as onions, peppers or gherkins. It's entirely up to you!
Barbeque sweet potatoes with garlic and herb dressing (serves six)
What you'll need
Six medium sweet potoatoes
Olive oil to drizzle
Six peeled garlic cloves
300g soured cream or natural yogurt
Half a red onion
Juice and zest from one lemon
Handful each of chopped coriander, mint and parsley
How to make it
Place sweet potato on a large piece of foil. Drizzle over olive oil and season well. Wrap tightly and put in the barbecue for 45 to 60 minutes.
While the potatoes are cooking, wrap the garlic cloves in foil, drizzle with olive oil, and cook in the barbeque for 15 to 20 minutes until soft. Finely slice the red onion and put in a non-metallic bowl with most of the lemon juice and a pinch of salt.
When the garlic has cooled, squeeze the flesh from the skins into a bowl and drizzle with a little more olive oil. Mix in the soured cream or yogurt gradually to distribute the garlic evenly.
When ready to serve, add the chopped herbs, lemon zest and the remaining lemon juice, season and taste. Remove the onions from the lemon juice, squeezing them dry.
Open up the sweet potato parcels, squash the flesh open a bit, spoon over the garlic and herb dressing, scatter with the onions and extra mint leaves, then serve in the foil.