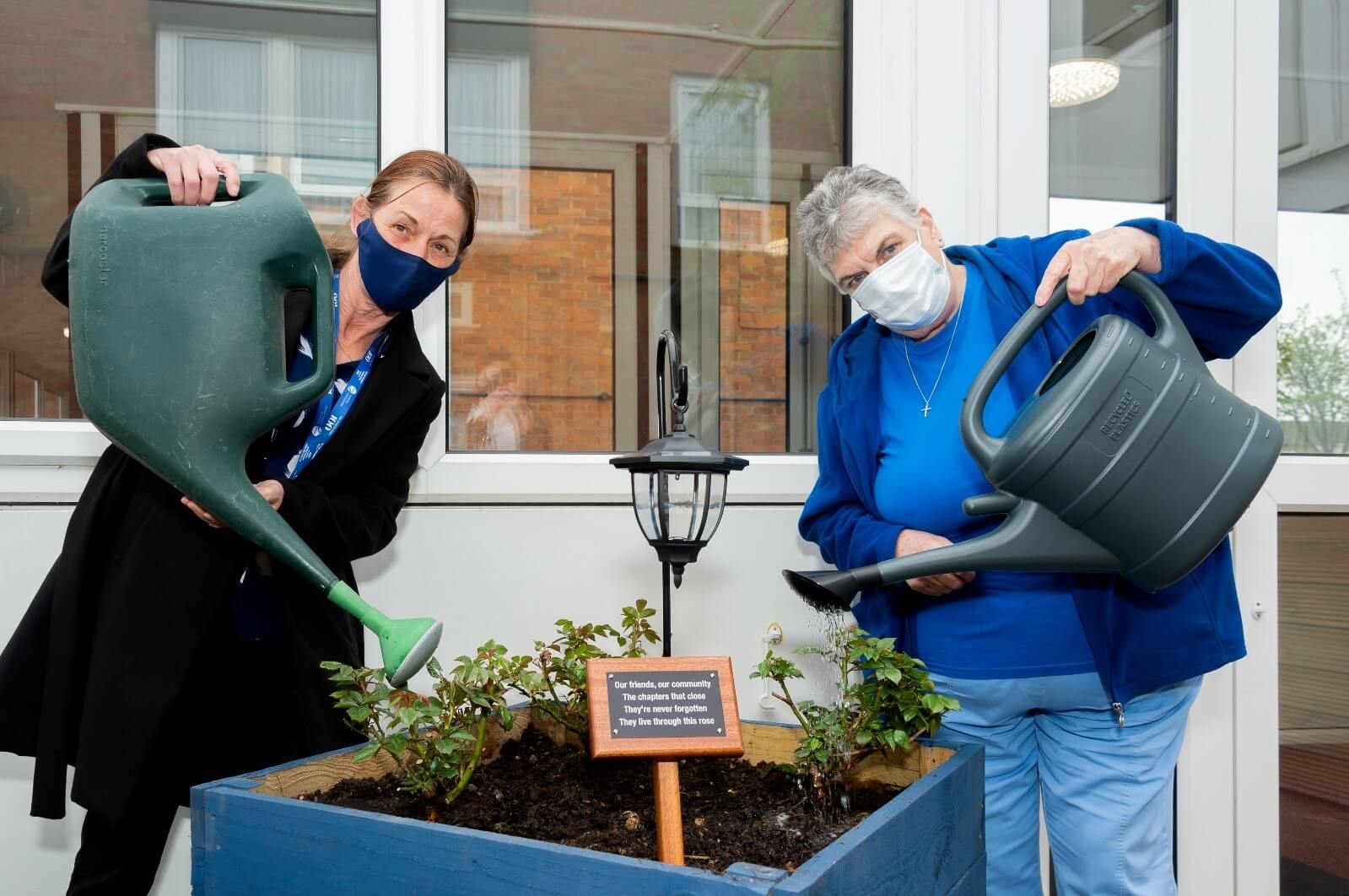 Pictured here .... Mandy Copping, Orbit Sheltered Scheme Officer, and Rosemary Holden, resident at Sherwood House in Bexley, South London
The flower bed memorial gardens have been created by our Estates Team in conjunction with one of our key grounds' maintenance contractors, Southern Land Services. Each includes a remembrance plaque made from sustainable wood and reads: 'Our friends, our community, the chapters that close. They're never forgotten, they live through this rose'.
The plaque will be illuminated by a solar powered lantern which has been ethically sourced and surrounded by a collection of award-winning Joie De Vivre roses, which are wildlife friendly and bloom between June and November.
Hayley Case, our Estates Team Manager in the South, said: "Working with customers, we are commemorating lives lost and lives affected by the coronavirus pandemic by creating memorial rose beds within the grounds of our Independent Living schemes. Our residents have really felt the impact of coronavirus, so we wanted to create an outdoor green space, where they can visit, reflect and remember those who are no longer with us."
The memorial flower beds have been funded by Southern Land Services, which is based in East Sussex and is one of our grounds' maintenance contractors. As part of their social investment commitment to Orbit, Southern Land Services invests around £7,000 each year into social value projects which improve the landscape of various schemes and developments, bringing a positive change to our communities throughout the South East.
Talking about his company's decision to fund the project, John Hesse Director of Southern Land Services, added: "This past year has been dominated by our collective fight against coronavirus and we were keen to mark the nation's struggle in some way. We wanted to find a way to respectfully pay tribute, and between us and Orbit's Estate team, we came up with the idea to install a rose bed featuring some poignant and heartfelt wording on a plaque with a single solar lantern as a permanent memorial. We have started to roll out the memorial flower beds across the South and so far, have installed seven of the 20 planned."
Rosemary Holden, a resident of Sherwood House which had its rose bed installation last week and is pictured above, commented: "It is so lovely to have the new memorial rose bed in our garden. It is important that we all have a place to think and remember those we have lost, after such a sad and difficult time for all. Both Orbit and the Southern Land Services team have done a great job on this. Well done."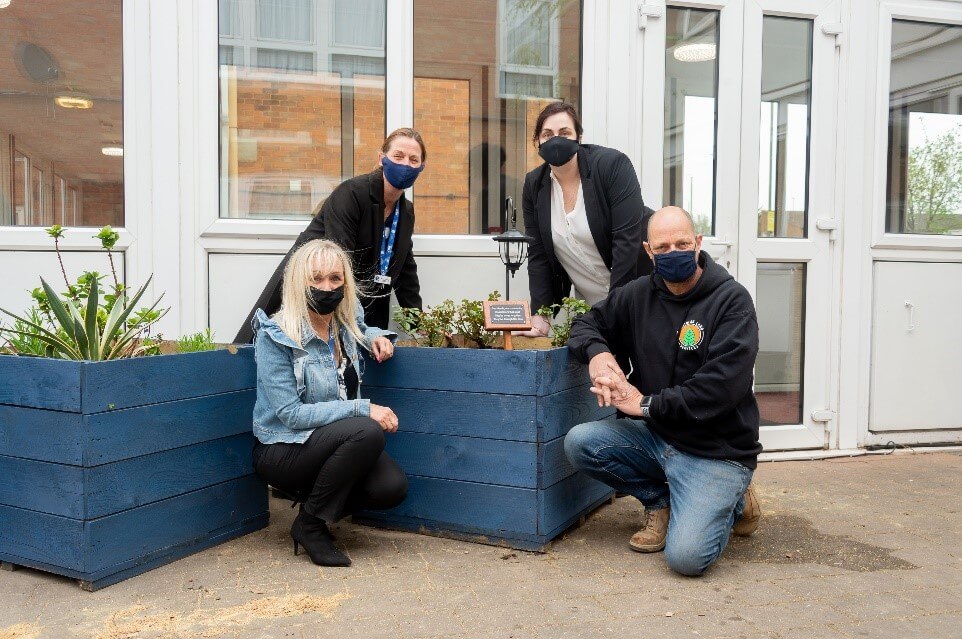 Pictured here ...Hayley Case, Orbit Estates Team Manager, Kay Corbishley, Orbit Independent Living Area Manager, Mandy Copping, Orbit Sheltered Scheme Officer and John Hesse, Director of Southern Land Services.
The Independent Living schemes which will receive a memorial rose bed, include:
Bexley: Flaxman Court, Hayley House, Bushey Court, Buckles Court, Lambert Court, Sherwood House and Marler House.
Thanet: Curzon House, Finsbury Court, Manktelow Court, Mentmore House, Napleton Court, Pettman Court, Sheen Court, Cherry Court and Craven Court.
Hastings: Sherwood House and Beaufort Court.
Medway: Evelyn House and Apni Haweli.