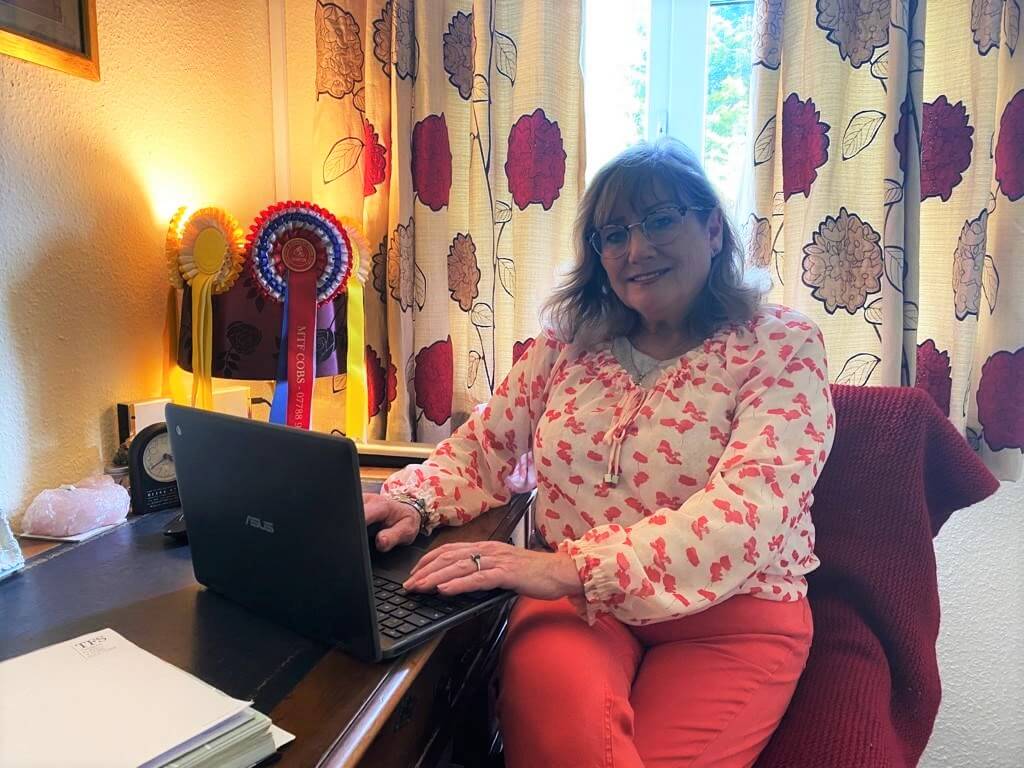 In August 2020, Hazel moved into an Orbit rented bungalow near Leamington Spa in Warwickshire. She had previously lived on a working farm with her husband, but after he died, she was forced to sell off her livestock and move on.
As a result, Hazel moved into her rented bungalow with little or no possessions and was really struggling financially. She said that at the time, she felt embarrassed to admit how bad her situation was, and she even kept her milk outside during the winter, as she did not have the money to buy a fridge.
After a telephone conversation with our Tenancy Sustainment Coach, Rosario Somma, Hazel finally admitted that she had hit an all-time low. She confessed her situation to Rosario, who immediately arranged to have some white goods installed in her kitchen using a special fund which is available to Orbit customers who are going through financial difficulty. Hazel was also provided with energy vouchers by our Community Investment Team, so she could afford to heat her home.
Hazel explained that as well as losing her home, she had also lost her livelihood and had no form of income. It was a terribly stressful and emotional time but reaching out and asking for help was the best thing she could do because then support could be put in place immediately.
To help Hazel get back on her feet, Rosario applied to Orbit's 'super surfer' grant which provided Hazel with a laptop. The grant gives our customers digital items, to undertake an accredited qualification. Since receiving her laptop, Hazel has been referred to the 'We Are Digital' programme, which gives customers up to six hours of digital skills support and has enrolled onto a dog grooming course.
Talking about her positive Orbit experience, Hazel said: "I am humbled and so very grateful for all the help Rosario has given me. My financial struggle has been very stressful, but since moving into my bungalow, Orbit have given me the inspiration and confidence to move forward and sort out my money worries. Just knowing that I have Orbit's support has taken a huge weight off my shoulders. I would like to thank Orbit for the fabulous laptop which I have received. It is going to be a real asset and I am very excited to begin my course!
"Orbit have truly been my saviour, during what has been the most difficult time of my life. They have given me the opportunity to get back on my feet, earn money and hopefully become self-employed. Orbit have gone to great lengths to help me to get my life back on track and have given me hope for the future."
Rosario Somma, our Tenancy Sustainment Coach who provided support to Hazel throughout the whole process, commented: "Hazel has been an absolute pleasure to work over recent months. She has engaged incredibly well with the support on offer and followed up on any actions we agreed on.
"Orbit offers lots of support to our customers, but without proactive engagement from the customer, it wouldn't work nearly as well. I hope Hazel recognises all the good work and effort she has put in to turn her life around. I am so pleased she decided to share her story, as this may encourage other customers facing hardship, to reach out and ask Orbit for support." 
Our Better Days initiative helps thousands of customers each year. Whether it's managing money, trying something new, finding happiness with work or improving your digital skills, our expert team and independent partners can offer free information, advice and guidance.
To explore our Better Days initiatives or to get information, advice and guidance on all of our offers and opportunities, click here: orbitcustomerhub.org.uk/help-support/ 
Are you a customer with a story to tell? If so, email communications@orbit.org.uk to tell us all about it and you too could appear on our website!