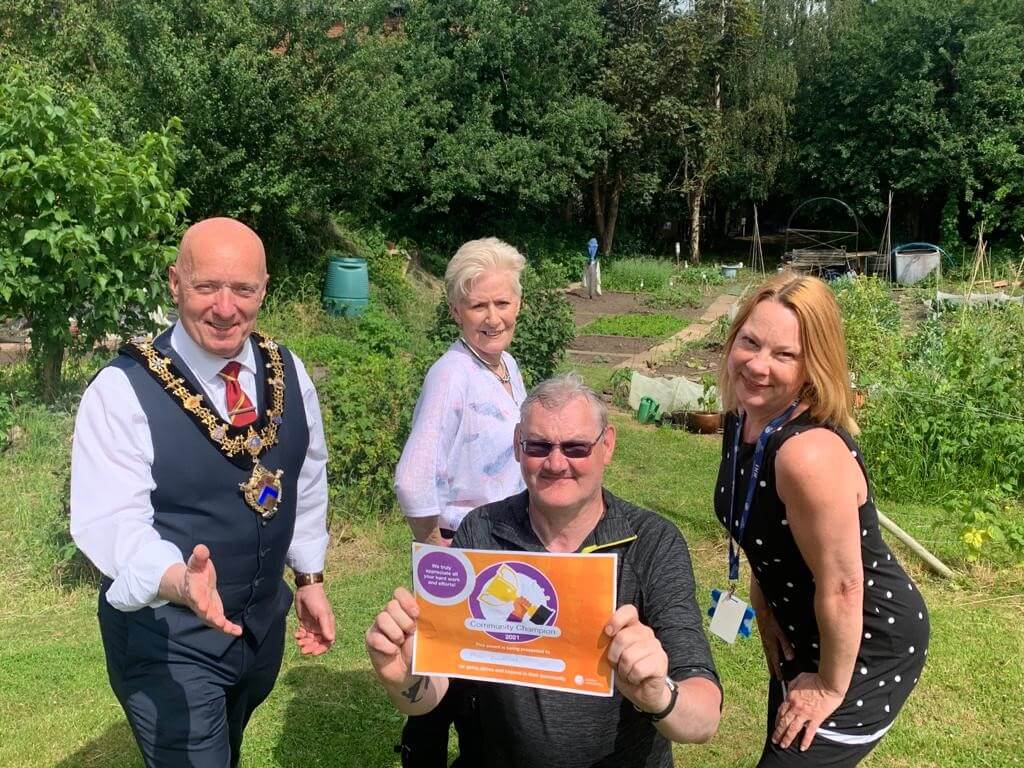 Philip Coldicott with Stratford Mayor Cllr Kevin Taylor, Cllr Cohl Warren-Howles and Cheryl Flavell, our Placemaking and Partnership Manager.
Philip from Stratford-upon-Avon has been an Orbit customer for over 20 years.
Philip founded the Stratford-upon-Avon Men's Support Group, which meets at the Lifeways Centre on Albany Road. The group aims to help support people's mental health through listening, being an ear for someone on their own and running wellbeing activities.
Philip has also attended online training sessions run by our Tenancy Sustainment team to provide him with the skills to help and support group members. He attended sessions on 'Confidence & Self-Esteem' and 'Motivation & Mindfulness' as he knew these were things that many people were struggling with during the pandemic.
Town Councillor Cohl Warren-Howles who nominated Philip, said: "Over the past 18 months with the stress created by the Covid-19 pandemic, mental health problems have increased. When I saw that Orbit were asking for nominations for a community champion, I wanted to nominate Phil immediately. He has worked so hard, not just with Stratford Men's Support, but with other voluntary work in the town too."
Philip added: "I was a bit shocked to get this award, but I just wanted to do something positive in the town. I've struggled with my mental health, but it's amazing what you can achieve with a bit of support and a bit of positivity. The whole reason I started this was because I wanted a bit of purpose."
Philip has been an engaged customer for many years and volunteered weekly as a Digital Champion in our Greenhill Street office pre-coronavirus, as well as volunteering as a Town Hall marshal.
Philip is also a finalist in this year's Thriving Communities Award, in the Better Days category. Click here to read his story: https://orbitcustomerhub.org.uk/help-support/thriving-communities-award/.
Are you a customer with a story to tell? If so, email communications@orbit.org.uk to tell us all about it and you too could appear on our website!