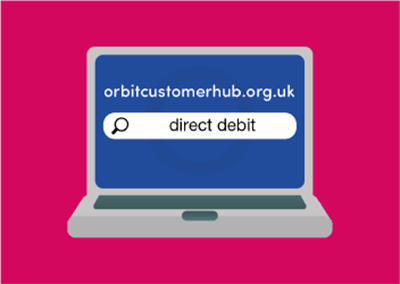 We've moved to a new and improved payment collection system, working with an expert in Allpay, an organisation that already provides some of our other payment services.
We want to give you more flexibility with regards to how and when you make payments relating to your tenancy, so that you can have greater control over your finances. If you already pay your rent and other charges via Direct Debit, you will have received communication direct from allpay Limited with more details about what this change means for you. If you are happy with your payment date, you do not need to do anything. However, if you want to change your payment date, please get in touch with us or call us on 0800 678 1221.
If you don't currently pay your rent via Direct Debit, there are many benefits to changing. It's free, safe, secure, and allows you to pay rent and other charges on a date that suits you. Your payments are covered by the 'Direct Debit Guarantee' and you can be sure that your rent and any other monies owed are paid on time and in full, every time.
You can find out more about Direct Debits on our website, and you can set up one yourself, using myAccount. You can also do it over the phone by calling our Customer Support Hub on 0800 678 1221. You'll need some key information to hand, including your tenancy reference number and bank account details. To help you get ready to set up your Direct Debit, watch our informative animation.
It's quick, easy and gives you the peace of mind that any payments are made on time and in full each month. It is especially useful if you currently receive Universal Credit (UC), or are moving to Universal Credit, as you can set your Direct Debit to leave your account on the day that you receive your UC payment. This allows you to more effectively manage your money and reduces the risk of falling into arrears. If you need extra help to manage your money, visit our help and support pages for advice and guidance.