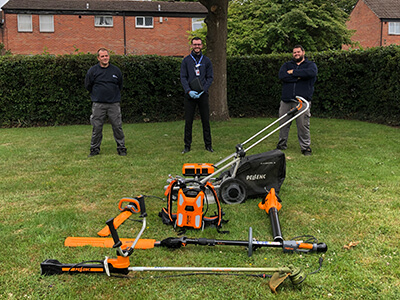 A successful garden clearance was completed in Lowestoft by RGM, one of our grounds maintenance contractors, after we learned that a customer was struggling to maintain their garden.
Property Manager, Bryony Coleman, visited the customer earlier in the year to inspect some repair issues and the customer mentioned that they wanted to get their garden cleared and back in good order. They also wanted to try and improve the look of their property to boost their mental health, which is something they struggle with in their day-to-day life. However, being on a lower income, this was not something they felt they could afford to do.
Bryony was able to work with our Community Investment team to obtain some funding support to help the customer do this. £1,000 was provided, which allowed Bryony to get the garden cleared out and tidied up. This has resulted in a massive improvement to the customer's garden, as well as his mental wellbeing. The customer was over the moon!
Our Property Managers are always happy to help - you can get in touch by visiting our Contact Us page. The Property Management team has been working hard to create a forum for each of our estates on the Your Voice platform to keep you up-to-date with everything that is happening where you live. For more information on how you can get involved, please visit our website our Get Involved page.