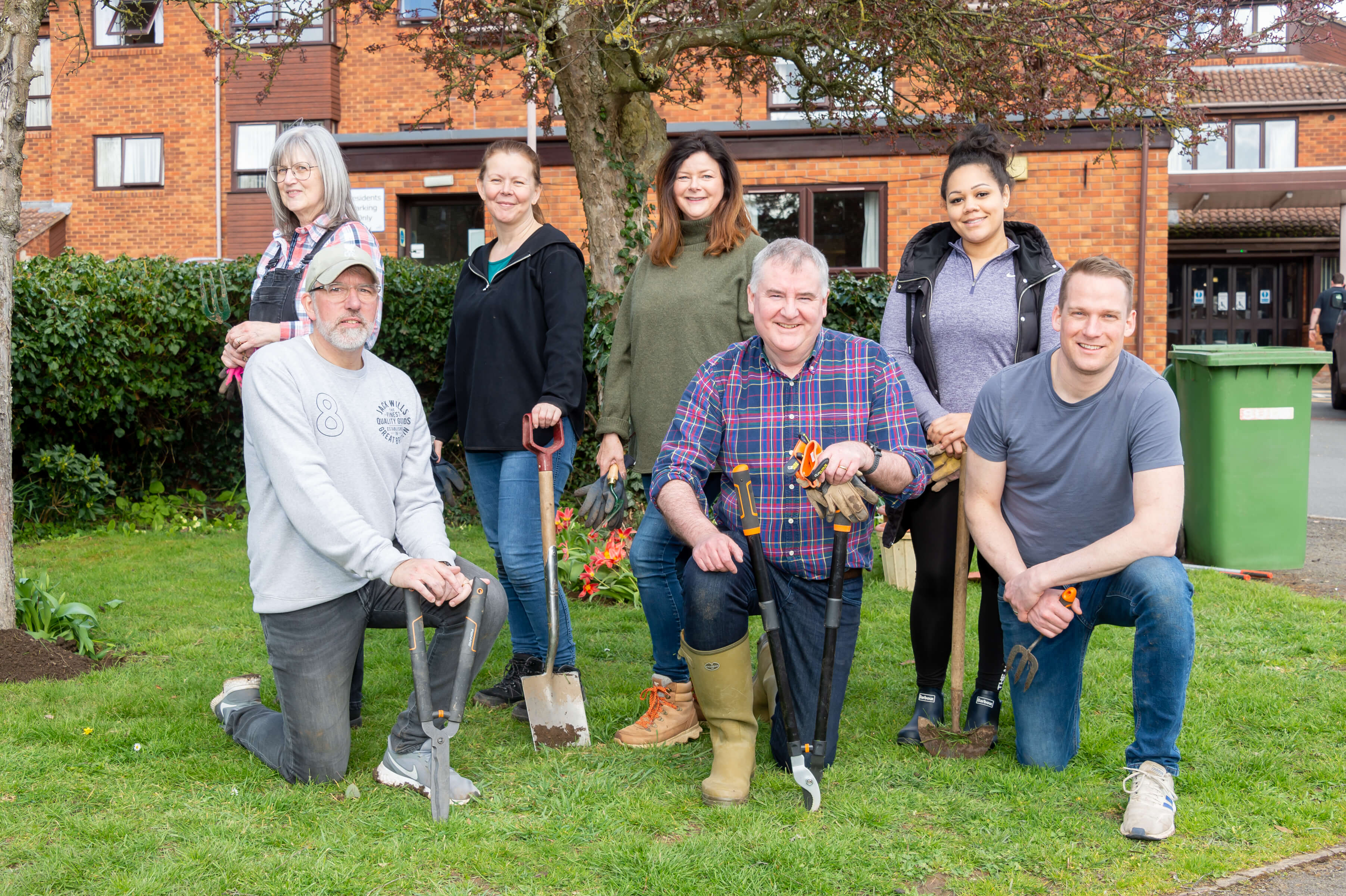 Photo caption: Group People and Reputation Director, John Wrighthouse, and Future Skills and Talent team members, Andy Jones, Adam Titley, Jacqueline Gardner, Helen Pearson, Helen Black and Danielle Clare.
Going over and above the usual grounds and maintenance works already provided, John and the team used their eight paid volunteering hours to help out at Orbit's Independent Living Scheme, Rainbow Fields, in Shipston-on-Stour.
The team worked their way around the building enhancing the flower beds to add some more colour, clearing weeds, trimming a few unruly bushes, turning over soil and redefining the original bed borders.
Commenting on the volunteering day, John said: "As a business, we want the best for our customers and want to provide places where they are proud to live. Our paid volunteering days are a fantastic way for teams to come together and build deeper bonds. It was nice to see everyone getting along, having fun and enjoying each other's company.
"It also gave me the opportunity to see the customers and communities we serve first-hand. I got to meet colleagues who work in the scheme and see the challenges that they face, saw some of our services in action and had a good chance to look around and reflect on what we can do to support more. We all have our busy day jobs, but it's important that we take the time to give back to our customers, maybe share a chat and a biscuit with them and hopefully leave the place a little bit better than when we found it!"
Rainbow Fields is a sheltered housing scheme, specially designed for people aged over 55. Residents have the independence of their own apartments, with the opportunity to socialise and get involved with the community if they wish. Extra care and support are available to them should their needs and requirements change over time.
For more information about independent and supporting living from Orbit, click here.