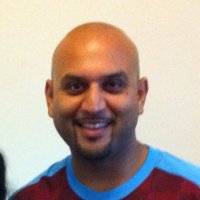 Due to COVID-19 and lockdown restrictions, Vaisakhi this year (on 13 April) was celebrated with our families at home. Being Punjabi, this meant making vast amounts of delicious food, such as Jalebi's (delicious Punjabi sweets)
It is time where the whole family can sit together and can talk about why this day is so important to us and why it's such a joyous occasion for our community.
Christmas for Christians is celebrating the birth of Christ and Vaisakhi for Sikhs is the birth of Sikhism. This is the day when our 10th Guru, Sri Guru Gobind Singh Ji Maharaj, baptised the first Sikhs, creating a new panth (society), the Khalsa.
Everything we are today came from that day and just like Christmas, we get together with loved ones, give gifts, eat together and pray together.
It's truly a special day for all Sikhs, a community full of pride, being the most prideful on this day.
On Vaisakhi, Sikhs from all around the world come together as one, as one big, strong family. Celebrating who we are, how we've been empowered by our beloved Gurus and what we've been given by almighty God.