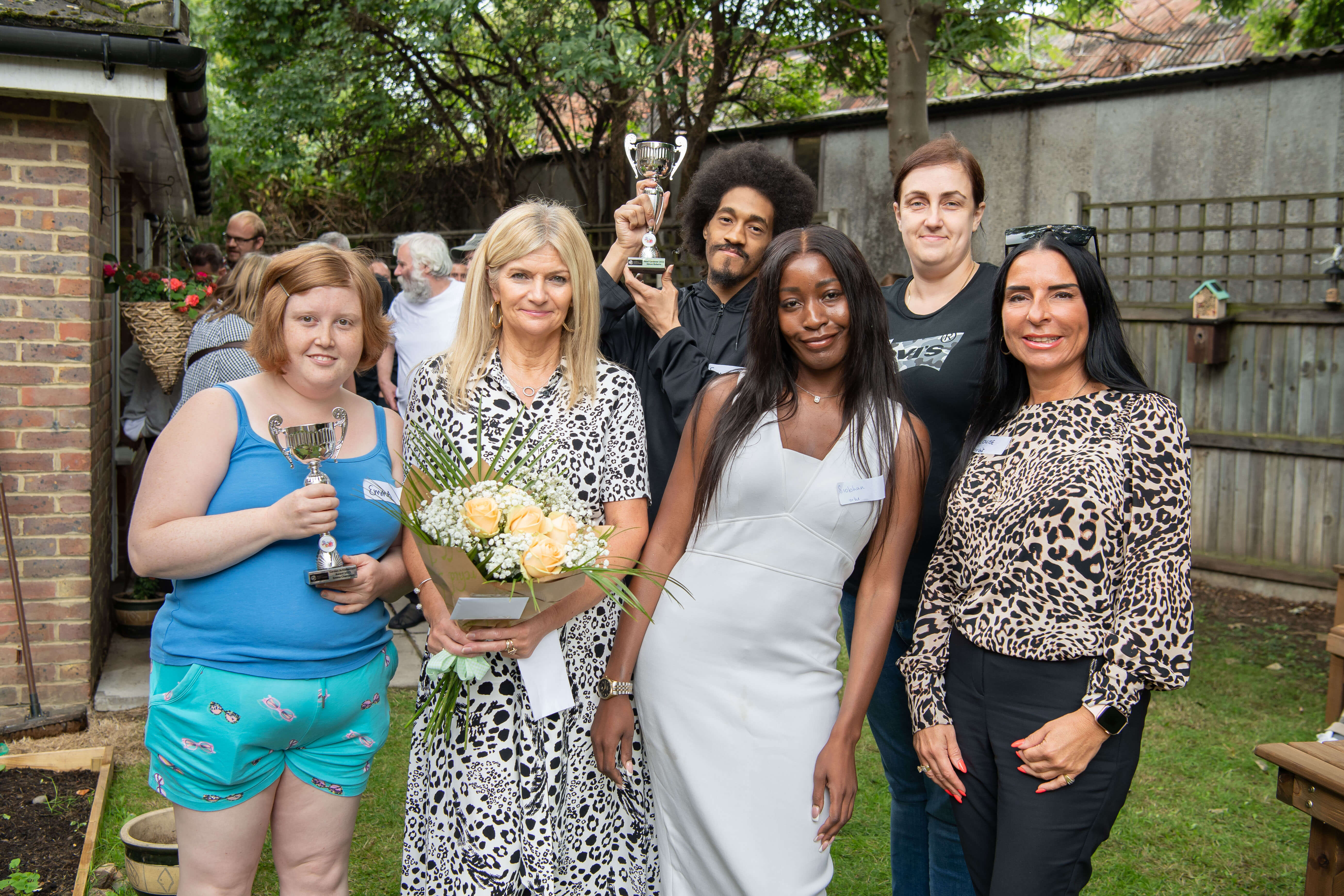 Photo caption: (L-R) Supported housing resident Emma, Support Worker Elaine Meyer, supported housing resident Simon, Orbit Supported Housing Officer Siobhan Duhaney, Orbit Contract and Standards Manager Hayley Case and Orbit Director of Customer Operations Louise Palese.
Orbit worked together with Southern Land Services and Just Ask to enhance the garden for residents, going over and above the usual grounds and maintenance works already provided to create an even more colourful space for residents to enjoy.
The team worked their way around the building, deep cleaning the patio, installing new garden furniture, enhancing flower beds with lavender and sunflowers, clearing weeds, and fitting a watering hose alongside the vegetable patches and wildflowers.
Neighbours of the supported housing scheme also donated plant pots, seeds, and solar-powered lights.
A community event was held recently which welcomed contractors, neighbours, Orbit colleagues and residents, to enjoy the renovated grounds. 
The renovation was welcomed by Orbit residents, who now have volunteers looking forward to upkeeping the garden. There is a daily rota for watering the new flower beds and various site meetings are held to encourage residents to contribute ideas to help enhance communal spaces.
Francis Burrows, Director of Support and Service Development at Orbit, said: "The transformation of the garden at Wheelock Close is an excellent demonstration of how working together collaboratively with our contractors and neighbours, can make such a difference to the lives of our residents.
"We are committed to enhancing the outdoor spaces of all our Orbit managed sites and by creating new habitats we can improve the local biodiversity, as well as support the health and wellbeing of our residents, who benefit greatly from being able to enjoy the gardens and green spaces."
John Hesse, Managing Director of Southern Land Services, added: "When Orbit got in touch to discuss enhancing the garden at Wheelock Close, we were very happy to be involved. The Wheelock garden is an important place for residents to relax and rejuvenate in a safe and familiar environment, and although the garden was previously well maintained, we wanted to increase biodiversity for local wildlife.
"As part of our social value commitment, we designed in wildflower lawns, planted borders and vegetable plots, and supplied compost and plants for the residents to include in their hanging baskets. The different range of flowers really brightened up the scheme and we've had some great feedback from residents."
Elton Cavell, Contract Manager at Just Ask, commented: "Just Ask have been delighted to be part of the regeneration program at Wheelock Close in Erith. We hope that the bench donated and works completed to enhance the garden will provide an opportunity for residents to enjoy the garden for years to come. We know that being outside lowers levels of stress and anxiety and improves mental health. And we at Just Ask are proud to be part of this wonderful regeneration program."
Wheelock Close in Erith is a supported housing scheme, specially designed for adults with learning or support needs. Residents have the independence of their own homes, with the opportunity to socialise and get involved with the community if they wish. Extra care and support are available to them should their needs and requirements change over time.
For more information about independent and supporting living from Orbit, click here.